Luke 23
Jesus trial before Pilate
The whole company of them rose up and brought him before Pilate. 2 They began to accuse him, saying, "We found this man perverting the nation, forbidding paying taxes to Caesar, and saying that he himself is Christ, a king." 3 Pilate asked him, "Are you the King of the Jews?" He answered him, "So you say." 4 Pilate said to the chief priests and the multitudes, "I find no basis for a charge against this man." 5 But they insisted, saying, "He stirs up the people, teaching throughout all Judea, beginning from Galilee even to this place."
6 But when Pilate heard Galilee mentioned, he asked if the man was a Galilean. 7 When he found out that he was in Herod's jurisdiction, he sent him to Herod, who was also in Jerusalem during those days.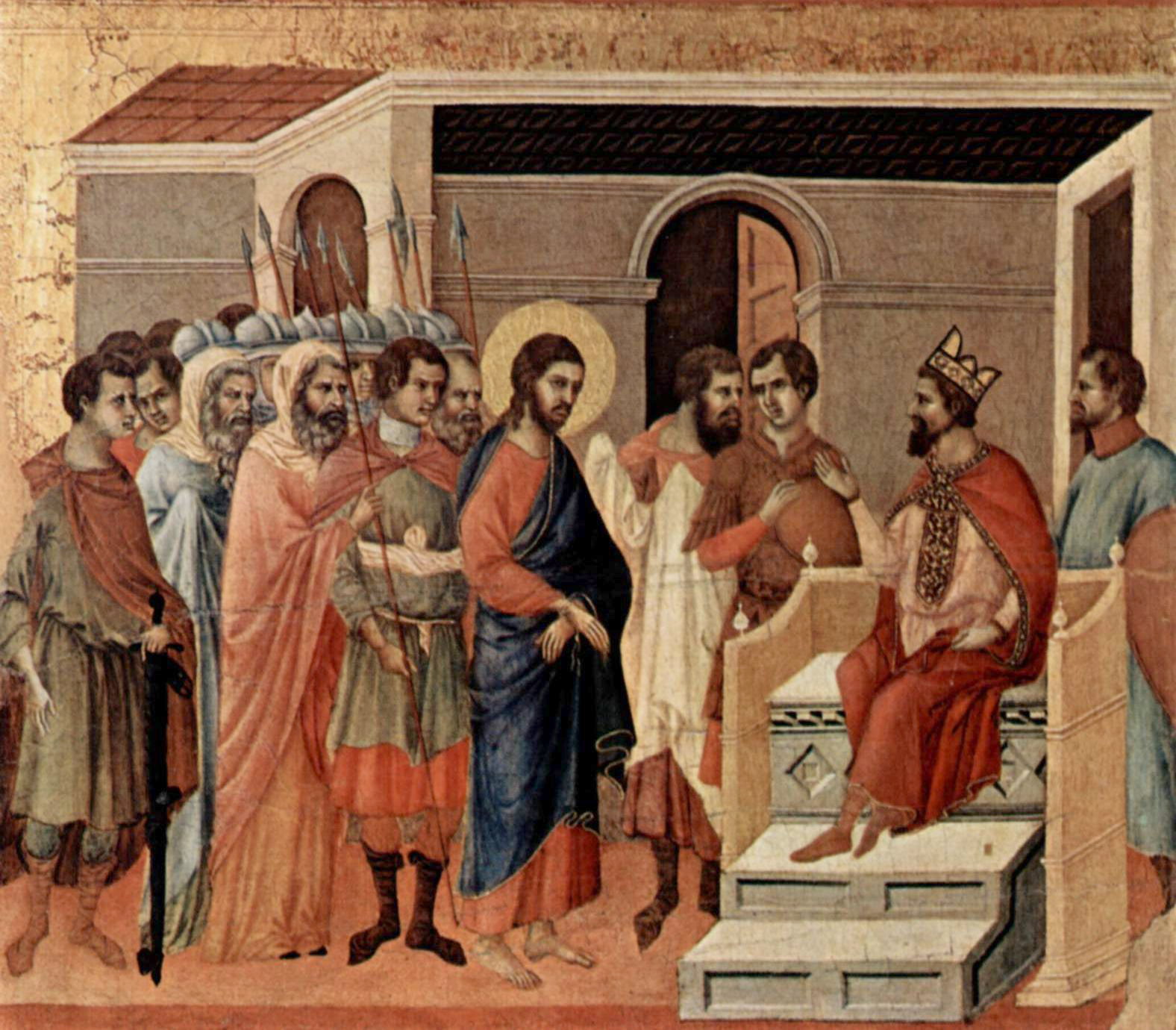 Jesus before Herod
8 Now when Herod saw Jesus, he was exceedingly glad, for he had wanted to see him for a long time, because he had heard many things about him. He hoped to see some miracle done by him. 9 He questioned him with many words, but he gave no answers. 10 The chief priests and the scribes stood, vehemently accusing him.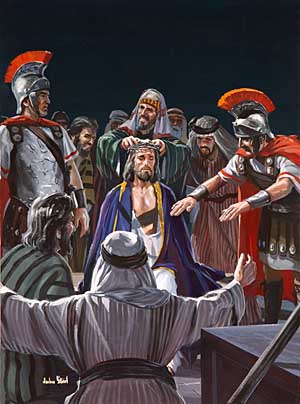 Herod's soldiers mocking Jesus
11 Herod with his soldiers humiliated him and mocked him. Dressing him in luxurious clothing, they sent him back to Pilate. 12 Herod and Pilate became friends with each other that very day, for before that they were enemies with each other.
Before Pilate again
13 Pilate called together the chief priests and the rulers and the people, 14 and said to them, "You brought this man to me as one that perverts the people, and see, I have examined him before you, and found no basis for a charge against this man concerning those things of which you accuse him. 15 Neither has Herod, for I sent you to him, and see, nothing worthy of death has been done by him. 16 I will therefore chastise him and release him." 17 Now he had to release one prisoner to them at the feast.
Crowd demands Barabbas' release
18 But they all cried out together, saying, "Away with this man! Release to us Barabbas!"— 19 one who was thrown into prison for a certain revolt in the city, and for murder. 20 Then Pilate spoke to them again, wanting to release Jesus, 21 but they shouted, saying, "Crucify! Crucify him!" 22 He said to them the third time, "Why? What evil has this man done? I have found no capital crime in him. I will therefore chastise him and release him." 23 But they were urgent with loud voices, asking that he might be crucified. Their voices and the voices of the chief priests prevailed.
Pilate releases Barabbas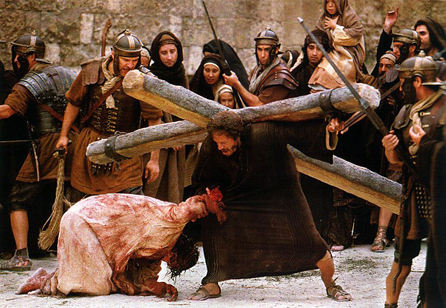 Simon of Cyrene carries cross
26 When they led him away, they grabbed one Simon of Cyrene, coming from the country, and laid on him the cross, to carry it after Jesus. 27 A great multitude of the people followed him, including women who also mourned and lamented him.
28 But Jesus, turning to them, said, "Daughters of Jerusalem, don't weep for me, but weep for yourselves and for your children. 29 For behold, the days are coming in which they will say, 'Blessed are the barren, the wombs that never bore, and the breasts that never nursed.' 30 Then they will begin to tell the mountains, 'Fall on us!' and tell the hills, 'Cover us.' 31 For if they do these things in the green tree, what will be done in the dry?"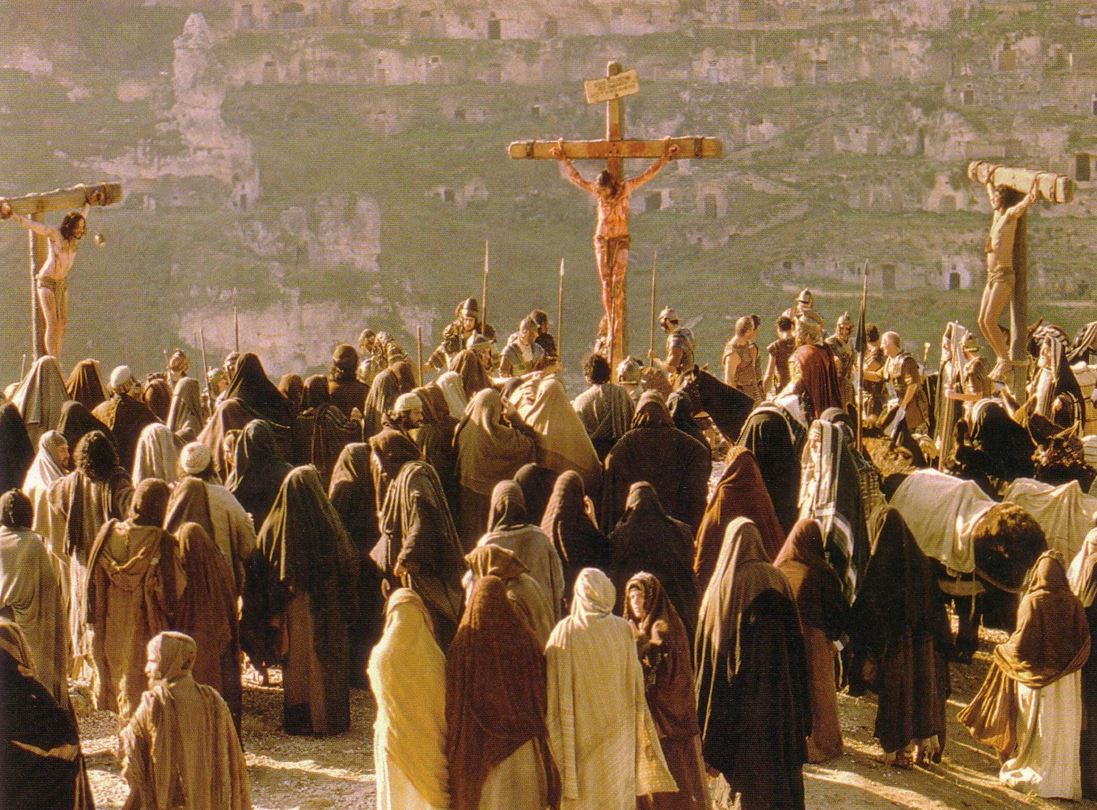 Jesus crucified
32 There were also others, two criminals, led with him to be put to death. 33 When they came to the place that is called The Skull, they crucified him there with the criminals, one on the right and the other on the left. 34 Jesus said, "Father, forgive them, for they don't know what they are doing."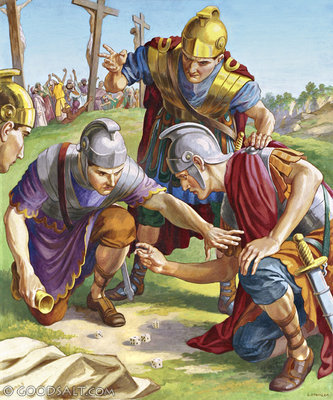 Dividing his garments among them, they cast lots. 35 The people stood watching. The rulers with them also scoffed at him, saying, "He saved others. Let him save himself, if this is the Christ of God, his chosen one!" 36 The soldiers also mocked him, coming to him and offering him vinegar, 37 and saying, "If you are the King of the Jews, save yourself!" 38 An inscription was also written over him in letters of Greek, Latin, and Hebrew: "THIS IS THE KING OF THE JEWS."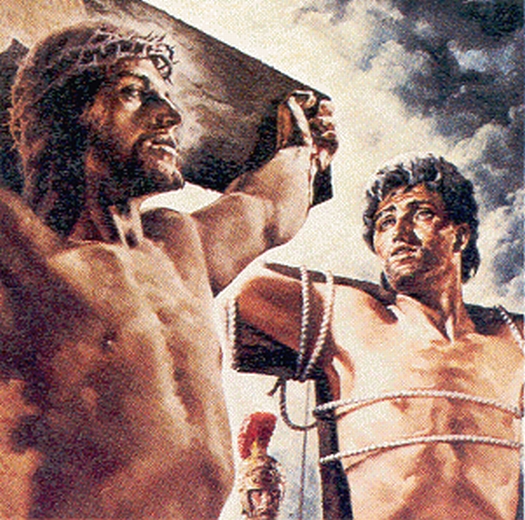 Jesus conversing with a criminal
39 One of the criminals who was hanged insulted him, saying, "If you are the Christ, save yourself and us!" 40 But the other answered, and rebuking him said, "Don't you even fear God, seeing you are under the same condemnation? 41 And we indeed justly, for we receive the due reward for our deeds, but this man has done nothing wrong." 42 He said to Jesus, "Lord, remember me when you come into your Kingdom." 43 Jesus said to him, "Assuredly I tell you, today you will be with me in Paradise."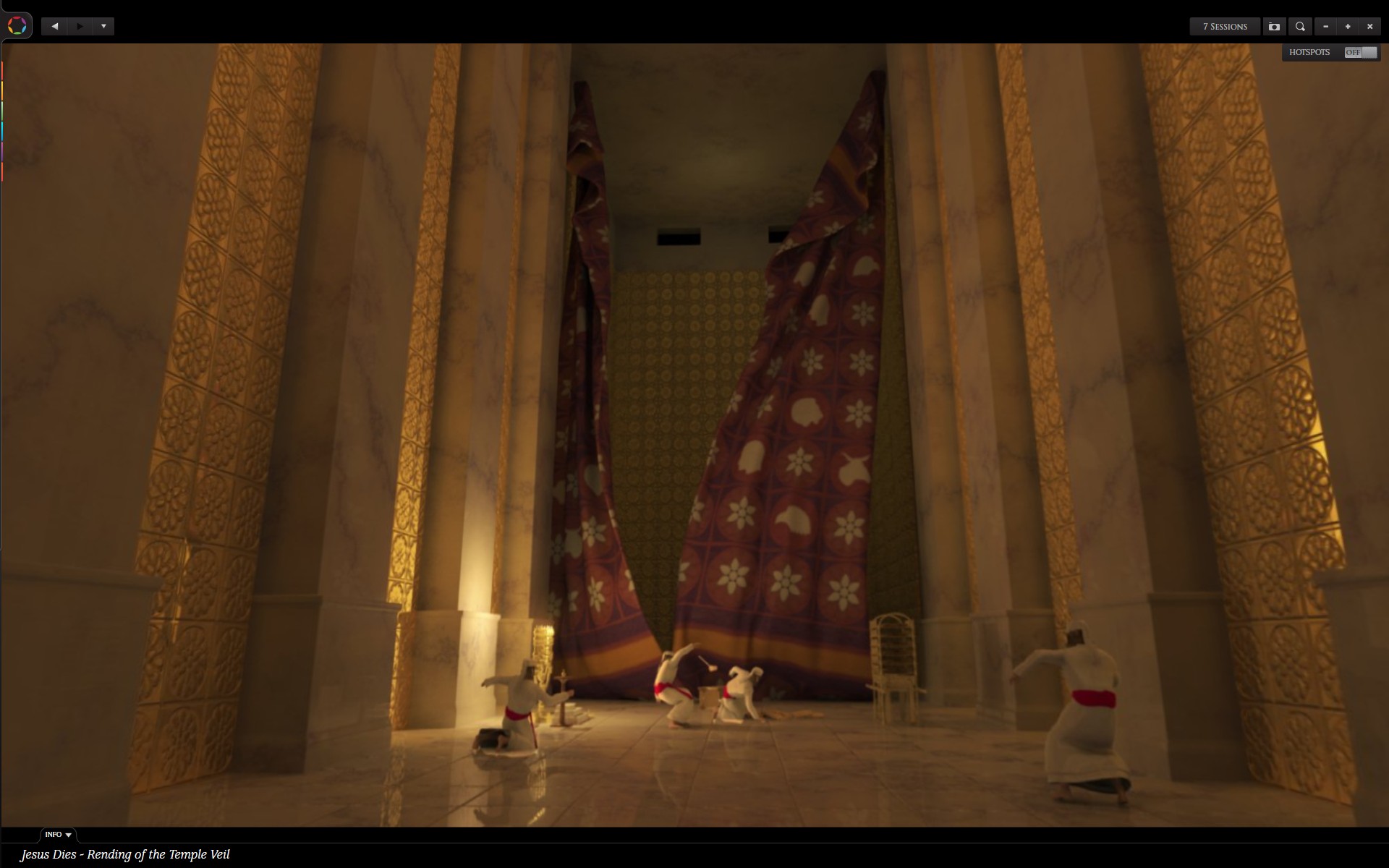 Veil torn in two
44 It was now about the sixth hour, and darkness came over the whole land until the ninth hour. 45 The sun was darkened, and the veil of the temple was torn in two. 46 Jesus, crying with a loud voice, said, "Father, into your hands I commit my spirit!" Having said this, he breathed his last. 47 When the centurion saw what was done, he glorified God, saying, "Certainly this was a righteous man." 48 All the multitudes that came together to see this, when they saw the things that were done, returned home beating their breasts. 49 All his acquaintances, and the women who followed with him from Galilee, stood at a distance, watching these things.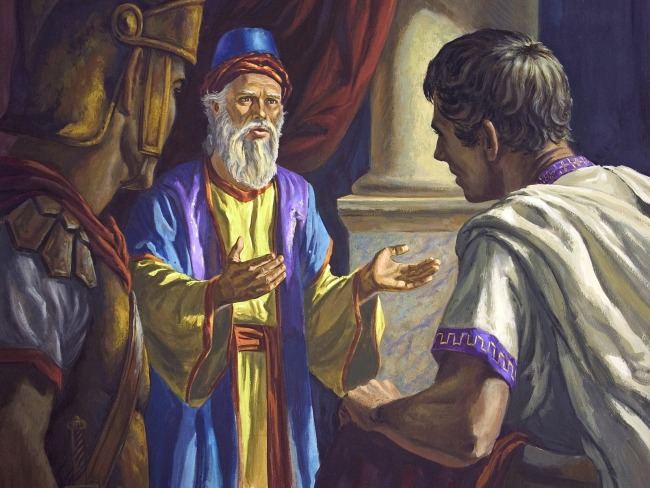 Joseph asks for Jesus body
50 Behold, a man named Joseph, who was a member of the council, a good and righteous man 51 (he had not consented to their counsel and deed), from Arimathaea, a city of the Jews, who was also waiting for God's Kingdom: 52 this man went to Pilate, and asked for Jesus' body.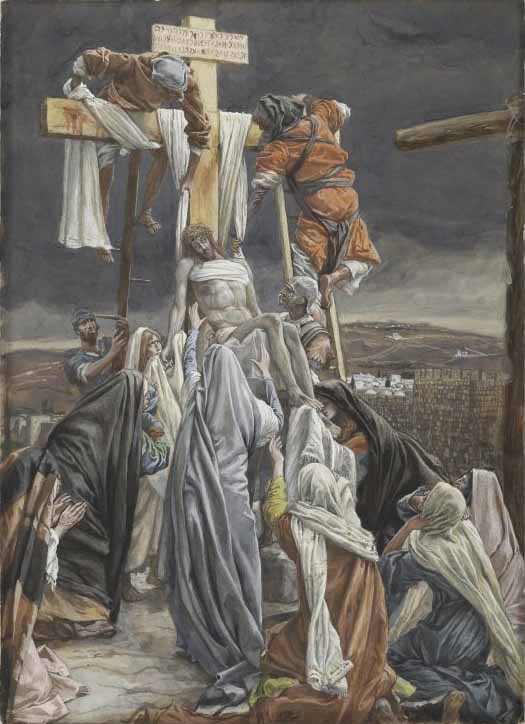 Jesus body removed from cross and put in a tomb
53 He took it down, and wrapped it in a linen cloth, and laid him in a tomb that was cut in stone, where no one had ever been laid. 54 It was the day of the Preparation, and the Sabbath was drawing near. 55 The women, who had come with him out of Galilee, followed after, and saw the tomb, and how his body was laid. 56 They returned, and prepared spices and ointments. On the Sabbath they rested according to the commandment.
John 18-19 World English Bible (WEB) 18 When Jesus had spoken these words, he went out with his disciples over the brook Kidron, where there was a garden, into which he and his disciples entered.
Judas leads soldiers to Jesus
2 Now Judas, who betrayed him, also knew the place, for Jesus often met there with his disciples. 3 Judas then, having taken a detachment of soldiers and officers from the chief priests and the Pharisees, came there with lanterns, torches, and weapons.
4 Jesus therefore, knowing all the things that were happening to him, went out, and said to them, "Who are you looking for?" 5 They answered him, "Jesus of Nazareth." Jesus said to them, "I am he." Judas also, who betrayed him, was standing with them. 6 When therefore he said to them, "I am he," they went backward, and fell to the ground. 7 Again therefore he asked them, "Who are you looking for?" They said, "Jesus of Nazareth." 8 Jesus answered, "I told you that I am he. If therefore you seek me, let these go their way," 9 that the word might be fulfilled which he spoke, "Of those whom you have given me, I have lost none."
John 18
Peter strikes servant's ear
10 Simon Peter therefore, having a sword, drew it, and struck the high priest's servant, and cut off his right ear. The servant's name was Malchus. 11 Jesus therefore said to Peter, "Put the sword into its sheath. The cup which the Father has given me, shall I not surely drink it?"
Jesus seized and brought to Caiaphas
12 So the detachment, the commanding officer, and the officers of the Jews, seized Jesus and bound him, 13 and led him to Annas first, for he was father-in-law to Caiaphas, who was high priest year. 14 Now it was Caiaphas who advised the Jews that it was expedient that one man should perish for the people.
John 18
Peter denies Jesus
15 Simon Peter followed Jesus, as did another disciple. Now that disciple was known to the high priest, and entered in with Jesus into the court of the high priest; 16 but Peter was standing at the door outside. So the other disciple, who was known to the high priest, went out and spoke to her who kept the door, and brought in Peter. 17 Then the maid who kept the door said to Peter, "Are you also one of this man's disciples?" He said, "I am not."
18 Now the servants and the officers were standing there, having made a fire of coals, for it was cold. They were warming themselves. Peter was with them, standing and warming himself. 19 The high priest therefore asked Jesus about his disciples, and about his teaching. 20 Jesus answered him, "I spoke openly to the world. I always taught in synagogues, and in the temple, where the Jews always meet. I said nothing in secret.
John 18
21 Why do you ask me? Ask those who have heard me what I said to them. Behold, these know the things which I said." 22 When he had said this, one of the officers standing by slapped Jesus with his hand, saying, "Do you answer the high priest like that?" 23 Jesus answered him, "If I have spoken evil, testify of the evil; but if well, why do you beat me?" 24 Annas sent him bound to Caiaphas, the high priest.
25 Now Simon Peter was standing and warming himself. They said therefore to him, "You aren't also one of his disciples, are you?" He denied it, and said, "I am not." 26 One of the servants of the high priest, being a relative of him whose ear Peter had cut off, said, "Didn't I see you in the garden with him?" 27 Peter therefore denied it again, and immediately the rooster crowed.
28 They led Jesus therefore from Caiaphas into the Praetorium. It was early, and they themselves didn't enter into the Praetorium, that they might not be defiled, but might eat the Passover.
John 18
29 Pilate therefore went out to them, and said, "What accusation do you bring against this man?" 30 They answered him, "If this man weren't an evildoer, we wouldn't have delivered him up to you." 31 Pilate therefore said to them, "Take him yourselves, and judge him according to your law." Therefore the Jews said to him, "It is not lawful for us to put anyone to death," 32 that the word of Jesus might be fulfilled, which he spoke, signifying by what kind of death he should die.
33 Pilate therefore entered again into the Praetorium, called Jesus, and said to him, "Are you the King of the Jews?" 34 Jesus answered him, "Do you say this by yourself, or did others tell you about me?" 35 Pilate answered, "I'm not a Jew, am I? Your own nation and the chief priests delivered you to me. What have you done?" 36 Jesus answered, "My Kingdom is not of this world. If my Kingdom were of this world, then my servants would fight, that I wouldn't be delivered to the Jews. But now my Kingdom is not from here."
37 Pilate therefore said to him, "Are you a king then?" Jesus answered, "You say that I am a king. For this reason I have been born, and for this reason I have come into the world, that I should testify to the truth. Everyone who is of the truth listens to my voice."
38 Pilate said to him, "What is truth?" When he had said this, he went out again to the Jews, and said to them, "I find no basis for a charge against him. 39 But you have a custom, that I should release someone to you at the Passover. Therefore do you want me to release to you the King of the Jews?" 40 Then they all shouted again, saying, "Not this man, but Barabbas!" Now Barabbas was a robber. 19 So Pilate then took Jesus, and flogged him.
John 19
2 The soldiers twisted thorns into a crown, and put it on his head, and dressed him in a purple garment. 3 They kept saying, "Hail, King of the Jews!" and they kept slapping him.
4 Then Pilate went out again, and said to them, "Behold, I bring him out to you, that you may know that I find no basis for a charge against him." 5 Jesus therefore came out, wearing the crown of thorns and the purple garment. Pilate said to them, "Behold, the man!"
6 When therefore the chief priests and the officers saw him, they shouted, saying, "Crucify! Crucify!" Pilate said to them, "Take him yourselves, and crucify him, for I find no basis for a charge against him." 7 The Jews answered him, "We have a law, and by our law he ought to die, because he made himself the Son of God." 8 When therefore Pilate heard this saying, he was more afraid. 9 He entered into the Praetorium again, and said to Jesus, "Where are you from?" But Jesus gave him no answer. 10 Pilate therefore said to him, "Aren't you speaking to me? Don't you know that I have power to release you, and have power to crucify you?" 11 Jesus answered, "You would have no power at all against me, unless it were given to you from above. Therefore he who delivered me to you has greater sin." 12 At this, Pilate was seeking to release him, but the Jews cried out, saying, "If you release this man, you aren't Caesar's friend! Everyone who makes himself a king speaks against Caesar!" 13 When Pilate therefore heard these words, he brought Jesus out, and sat down on the judgment seat at a place called "The Pavement", but in Hebrew, "Gabbatha." 14 Now it was the Preparation Day of the Passover, at about the sixth hour. He said to the Jews, "Behold, your King!" 15 They cried out, "Away with him! Away with him! Crucify him!" Pilate said to them, "Shall I crucify your King?" The chief priests answered, "We have no king but Caesar!" 16 So then he delivered him to them to be crucified. So they took Jesus and led him away. 17 He went out, bearing his cross, to the place called "The Place of a Skull", which is called in Hebrew, "Golgotha", 18 where they crucified him, and with him two others, on either side one, and Jesus in the middle. 19 Pilate wrote a title also, and put it on the cross. There was written, "JESUS OF NAZARETH, THE KING OF THE JEWS." 20 Therefore many of the Jews read this title, for the place where Jesus was crucified was near the city; and it was written in Hebrew, in Latin, and in Greek. 21 The chief priests of the Jews therefore said to Pilate, "Don't write, 'The King of the Jews,' but, 'he said, I am King of the Jews.'" 22 Pilate answered, "What I have written, I have written." 23 Then the soldiers, when they had crucified Jesus, took his garments and made four parts, to every soldier a part; and also the coat. Now the coat was without seam, woven from the top throughout. 24 Then they said to one another, "Let's not tear it, but cast lots for it to decide whose it will be," that the Scripture might be fulfilled, which says, "They parted my garments among them. For my cloak they cast lots." Therefore the soldiers did these things. 25 But there were standing by the cross of Jesus his mother, and his mother's sister, Mary the wife of Clopas, and Mary Magdalene. 26 Therefore when Jesus saw his mother, and the disciple whom he loved standing there, he said to his mother, "Woman, behold your son!" 27 Then he said to the disciple, "Behold, your mother!" From that hour, the disciple took her to his own home. 28 After this, Jesus, seeing that all things were now finished, that the Scripture might be fulfilled, said, "I am thirsty." 29 Now a vessel full of vinegar was set there; so they put a sponge full of the vinegar on hyssop, and held it at his mouth. 30 When Jesus therefore had received the vinegar, he said, "It is finished." He bowed his head, and gave up his spirit. 31 Therefore the Jews, because it was the Preparation Day, so that the bodies wouldn't remain on the cross on the Sabbath (for that Sabbath was a special one), asked of Pilate that their legs might be broken, and that they might be taken away. 32 Therefore the soldiers came, and broke the legs of the first, and of the other who was crucified with him; 33 but when they came to Jesus, and saw that he was already dead, they didn't break his legs. 34 However one of the soldiers pierced his side with a spear, and immediately blood and water came out. 35 He who has seen has testified, and his testimony is true. He knows that he tells the truth, that you may believe. 36 For these things happened, that the Scripture might be fulfilled, "A bone of him will not be broken." 37 Again another Scripture says, "They will look on him whom they pierced." 38 After these things, Joseph of Arimathaea, being a disciple of Jesus, but secretly for fear of the Jews, asked of Pilate that he might take away Jesus' body. Pilate gave him permission. He came therefore and took away his body. 39 Nicodemus, who at first came to Jesus by night, also came bringing a mixture of myrrh and aloes, about a hundred Roman pounds. 40 So they took Jesus' body, and bound it in linen cloths with the spices, as the custom of the Jews is to bury. 41 Now in the place where he was crucified there was a garden. In the garden was a new tomb in which no man had ever yet been laid. 42 Then because of the Jews' Preparation Day (for the tomb was near at hand) they laid Jesus there.
end of John 19
Acts 1-3World English Bible (WEB) 1
Luke writing acts
Greeting
The first book I wrote, Theophilus, concerned all that Jesus began both to do and to teach, 2 until the day in which he was received up, after he had given commandment through the Holy Spirit to the apostles whom he had chosen.
Jesus post-resurrection appearances
3 To these he also showed himself alive after he suffered, by many proofs, appearing to them over a period of forty days, and speaking about God's Kingdom. 4 Being assembled together with them, he commanded them, "Don't depart from Jerusalem, but wait for the promise of the Father, which you heard from me. 5 For John indeed baptized in water, but you will be baptized in the Holy Spirit not many days from now."
Question about restoring Israel
6 Therefore when they had come together, they asked him, "Lord, are you now restoring the kingdom to Israel?" 7 He said to them, "It isn't for you to know times or seasons which the Father has set within his own authority. 8 But you will receive power when the Holy Spirit has come upon you. You will be witnesses to me in Jerusalem, in all Judea and Samaria, and to the uttermost parts of the earth."
Jesus rises, angels admonish the disciples
9 When he had said these things, as they were looking, he was taken up, and a cloud received him out of their sight. 10 While they were looking steadfastly into the sky as he went, behold, two men stood by them in white clothing, 11 who also said, "You men of Galilee, why do you stand looking into the sky? This Jesus, who was received up from you into the sky will come back in the same way as you saw him going into the sky."
12 Then they returned to Jerusalem from the mountain called Olivet, which is near Jerusalem, a Sabbath day's journey away. 13 When they had come in, they went up into the upper room, where they were staying; that is Peter, John, James, Andrew, Philip, Thomas, Bartholomew, Matthew, James the son of Alphaeus, Simon the Zealot, and Judas the son of James. 14 All these with one accord continued steadfastly in prayer and supplication, along with the women, and Mary the mother of Jesus, and with his brothers.
Replacing Judas
15 In these days, Peter stood up in the middle of the disciples (and the number of names was about one hundred twenty), and said, 16 "Brothers, it was necessary that this Scripture should be fulfilled, which the Holy Spirit spoke before by the mouth of David concerning Judas, who was guide to those who took Jesus. 17 For he was numbered with us, and received his portion in this ministry. 18 Now this man obtained a field with the reward for his wickedness, and falling headlong, his body burst open, and all his intestines gushed out. 19 It became known to everyone who lived in Jerusalem that in their language that field was called 'Akeldama,' that is, 'The field of blood.' 20 For it is written in the book of Psalms, 'Let his habitation be made desolate. Let no one dwell therein;' and, 'Let another take his office.' 21 "Of the men therefore who have accompanied us all the time that the Lord Jesus went in and out among us, 22 beginning from the baptism of John, to the day that he was received up from us, of these one must become a witness with us of his resurrection." 23 They put forward two, Joseph called Barsabbas, who was also called Justus, and Matthias. 24 They prayed, and said, "You, Lord, who know the hearts of all men, show which one of these two you have chosen 25 to take part in this ministry and apostleship from which Judas fell away, that he might go to his own place." 26 They drew lots for them, and the lot fell on Matthias, and he was numbered with the eleven apostles.
Holy Spirit poured out
2 Now when the day of Pentecost had come, they were all with one accord in one place. 2 Suddenly there came from the sky a sound like the rushing of a mighty wind, and it filled all the house where they were sitting. 3 Tongues like fire appeared and were distributed to them, and one sat on each of them. 4 They were all filled with the Holy Spirit, and began to speak with other languages, as the Spirit gave them the ability to speak.
5 Now there were dwelling in Jerusalem Jews, devout men, from every nation under the sky. 6 When this sound was heard, the multitude came together, and were bewildered, because everyone heard them speaking in his own language. 7 They were all amazed and marveled, saying to one another, "Behold, aren't all these who speak Galileans? 8 How do we hear, everyone in our own native language? 9 Parthians, Medes, Elamites, and people from Mesopotamia, Judea, Cappadocia, Pontus, Asia, 10 Phrygia, Pamphylia, Egypt, the parts of Libya around Cyrene, visitors from Rome, both Jews and proselytes, 11 Cretans and Arabians: we hear them speaking in our languages the mighty works of God!" 12 They were all amazed, and were perplexed, saying to one another, "What does this mean?" 13 Others, mocking, said, "They are filled with new wine."
Peter preaches
14 But Peter, standing up with the eleven, lifted up his voice, and spoke out to them, "You men of Judea, and all you who dwell at Jerusalem, let this be known to you, and listen to my words. 15 For these aren't drunken, as you suppose, seeing it is only the third hour of the day.
Prophecy from Joel
16 But this is what has been spoken through the prophet Joel: 17 'It will be in the last days, says God, that I will pour out my Spirit on all flesh. Your sons and your daughters will prophesy. Your young men will see visions. Your old men will dream dreams. 18 Yes, and on my servants and on my handmaidens in those days, I will pour out my Spirit, and they will prophesy. 19 I will show wonders in the sky above, and signs on the earth beneath; blood, and fire, and billows of smoke. 20 The sun will be turned into darkness, and the moon into blood, before the great and glorious day of the Lord comes. 21 It will be that whoever will call on the name of the Lord will be saved.'
22 "Men of Israel, hear these words! Jesus of Nazareth, a man approved by God to you by mighty works and wonders and signs which God did by him among you, even as you yourselves know, 23 him, being delivered up by the determined counsel and foreknowledge of God, you have taken by the hand of lawless men, crucified and killed; 24 whom God raised up, having freed him from the agony of death, because it was not possible that he should be held by it. 25 For David says concerning him, 'I saw the Lord always before my face, For he is on my right hand, that I should not be moved. 26 Therefore my heart was glad, and my tongue rejoiced. Moreover my flesh also will dwell in hope; 27 because you will not leave my soul in Hades, neither will you allow your Holy One to see decay. 28 You made known to me the ways of life. You will make me full of gladness with your presence.' 29 "Brothers, I may tell you freely of the patriarch David, that he both died and was buried, and his tomb is with us to this day. 30 Therefore, being a prophet, and knowing that God had sworn with an oath to him that of the fruit of his body, according to the flesh, he would raise up the Christ to sit on his throne, 31 he foreseeing this spoke about the resurrection of the Christ, that neither was his soul left in Hades, nor did his flesh see decay. 32 This Jesus God raised up, to which we all are witnesses. 33 Being therefore exalted by the right hand of God, and having received from the Father the promise of the Holy Spirit, he has poured out this, which you now see and hear. 34 For David didn't ascend into the heavens, but he says himself, 'The Lord said to my Lord, "Sit by my right hand, 35 until I make your enemies a footstool for your feet."' 36 "Let all the house of Israel therefore know certainly that God has made him both Lord and Christ, this Jesus whom you crucified." 37 Now when they heard this, they were cut to the heart, and said to Peter and the rest of the apostles, "Brothers, what shall we do?" 38 Peter said to them, "Repent, and be baptized, every one of you, in the name of Jesus Christ for the forgiveness of sins, and you will receive the gift of the Holy Spirit. 39 For the promise is to you, and to your children, and to all who are far off, even as many as the Lord our God will call to himself." 40 With many other words he testified, and exhorted them, saying, "Save yourselves from this crooked generation!" 41 Then those who gladly received his word were baptized. There were added that day about three thousand souls. 42 They continued steadfastly in the apostles' teaching and fellowship, in the breaking of bread, and prayer. 43 Fear came on every soul, and many wonders and signs were done through the apostles. 44 All who believed were together, and had all things in common. 45 They sold their possessions and goods, and distributed them to all, according as anyone had need. 46 Day by day, continuing steadfastly with one accord in the temple, and breaking bread at home, they took their food with gladness and singleness of heart, 47 praising God, and having favor with all the people. The Lord added to the assembly day by day those who were being saved. 3 Peter and John were going up into the temple at the hour of prayer, the ninth hour. 2 A certain man who was lame from his mother's womb was being carried, whom they laid daily at the door of the temple which is called Beautiful, to ask gifts for the needy of those who entered into the temple. 3 Seeing Peter and John about to go into the temple, he asked to receive gifts for the needy. 4 Peter, fastening his eyes on him, with John, said, "Look at us." 5 He listened to them, expecting to receive something from them. 6 But Peter said, "Silver and gold have I none, but what I have, that I give you. In the name of Jesus Christ of Nazareth, get up and walk!" 7 He took him by the right hand, and raised him up. Immediately his feet and his ankle bones received strength. 8 Leaping up, he stood, and began to walk. He entered with them into the temple, walking, leaping, and praising God. 9 All the people saw him walking and praising God. 10 They recognized him, that it was he who used to sit begging for gifts for the needy at the Beautiful Gate of the temple. They were filled with wonder and amazement at what had happened to him. 11 As the lame man who was healed held on to Peter and John, all the people ran together to them in the porch that is called Solomon's, greatly wondering. 12 When Peter saw it, he responded to the people, "You men of Israel, why do you marvel at this man? Why do you fasten your eyes on us, as though by our own power or godliness we had made him walk? 13 The God of Abraham, Isaac, and Jacob, the God of our fathers, has glorified his Servant Jesus, whom you delivered up, and denied in the presence of Pilate, when he had determined to release him. 14 But you denied the Holy and Righteous One, and asked for a murderer to be granted to you, 15 and killed the Prince of life, whom God raised from the dead, to which we are witnesses. 16 By faith in his name, his name has made this man strong, whom you see and know. Yes, the faith which is through him has given him this perfect soundness in the presence of you all. 17 "Now, brothers, I know that you did this in ignorance, as did also your rulers. 18 But the things which God announced by the mouth of all his prophets, that Christ should suffer, he thus fulfilled. 19 "Repent therefore, and turn again, that your sins may be blotted out, so that there may come times of refreshing from the presence of the Lord, 20 and that he may send Christ Jesus, who was ordained for you before, 21 whom heaven must receive until the times of restoration of all things, which God spoke long ago by the mouth of his holy prophets. 22 For Moses indeed said to the fathers, 'The Lord God will raise up a prophet for you from among your brothers, like me. You shall listen to him in all things whatever he says to you. 23 It will be that every soul that will not listen to that prophet will be utterly destroyed from among the people.' 24 Yes, and all the prophets from Samuel and those who followed after, as many as have spoken, they also told of these days. 25 You are the children of the prophets, and of the covenant which God made with our fathers, saying to Abraham, 'In your offspring will all the families of the earth be blessed.' 26 God, having raised up his servant Jesus, sent him to you first to bless you, in turning away every one of you from your wickedness."
1 Corinthians 3 World English Bible (WEB)
top
3 Brothers, I couldn't speak to you as to spiritual, but as to fleshly, as to babies in Christ. 2 I fed you with milk, not with meat; for you weren't yet ready. Indeed, not even now are you ready, 3 for you are still fleshly. For insofar as there is jealousy, strife, and factions among you, aren't you fleshly, and don't you walk in the ways of men?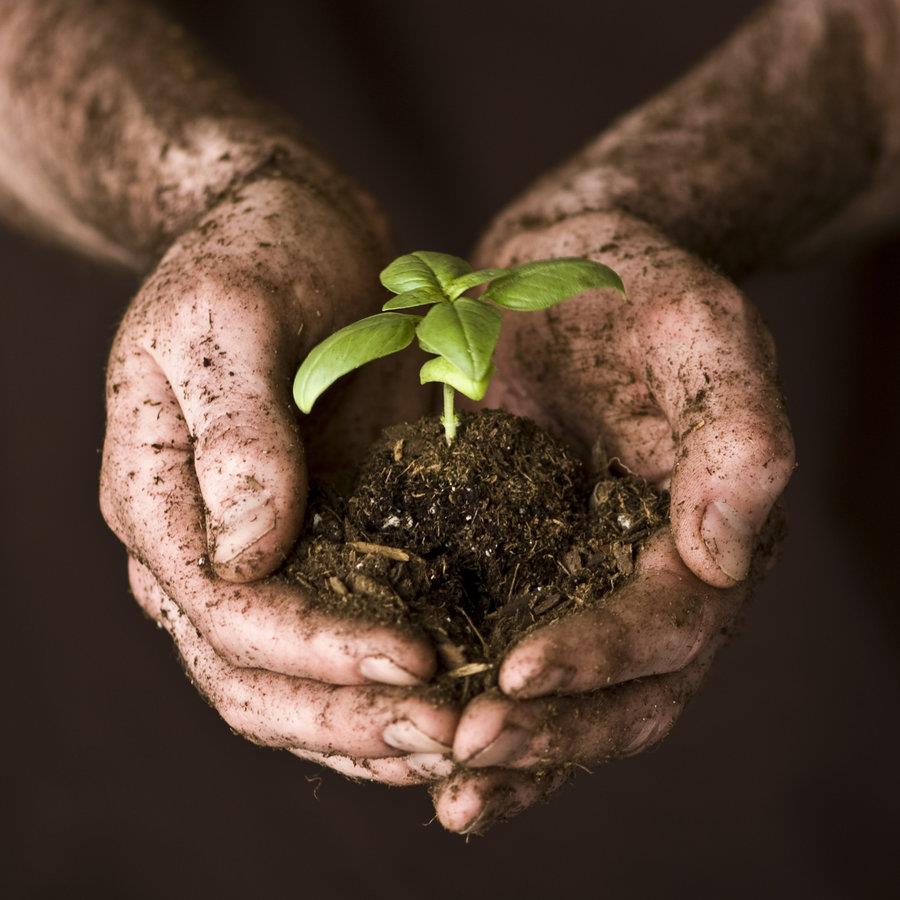 One plants, another waters, God causes the growth
4 For when one says, "I follow Paul," and another, "I follow Apollos," aren't you fleshly? 5 Who then is Apollos, and who is Paul, but servants through whom you believed; and each as the Lord gave to him? 6 I planted. Apollos watered. But God gave the increase. 7 So then neither he who plants is , nor he who waters, but God who gives the increase.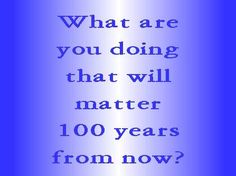 Each will receive his reward
8 Now he who plants and he who waters are the same, but each will receive his own reward according to his own labor.
9 For we are God's fellow workers. You are God's farming, God's building.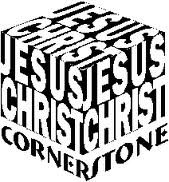 Laying the foundation of Jesus
10 According to the grace of God which was given to me, as a wise master builder I laid a foundation, and another builds on it. But let each man be careful how he builds on it. 11 For no one can lay any other foundation than that which has been laid, which is Jesus Christ.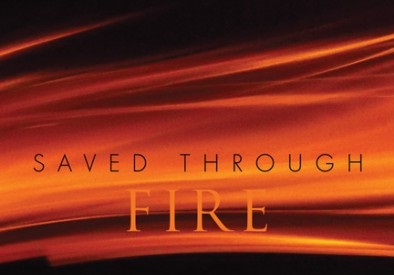 Fire-testing our work
12 But if anyone builds on the foundation with gold, silver, costly stones, wood, hay, or stubble; 13 each man's work will be revealed. For the Day will declare it, because it is revealed in fire; and the fire itself will test what sort of work each man's work is. 14 If any man's work remains which he built on it, he will receive a reward. 15 If any man's work is burned, he will suffer loss, but he himself will be saved, but as through fire.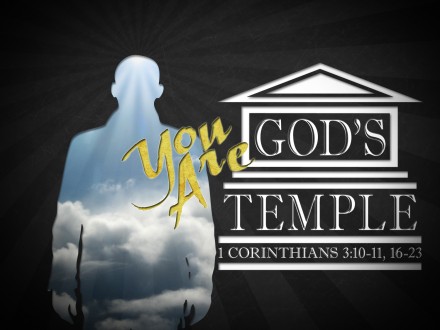 You are a temple of God
(See 1 Cor 6:19-20)
16 Don't you know that you are a temple of God, and that God's Spirit lives in you? 17 If anyone destroys God's temple, God will destroy him; for God's temple is holy, which you are.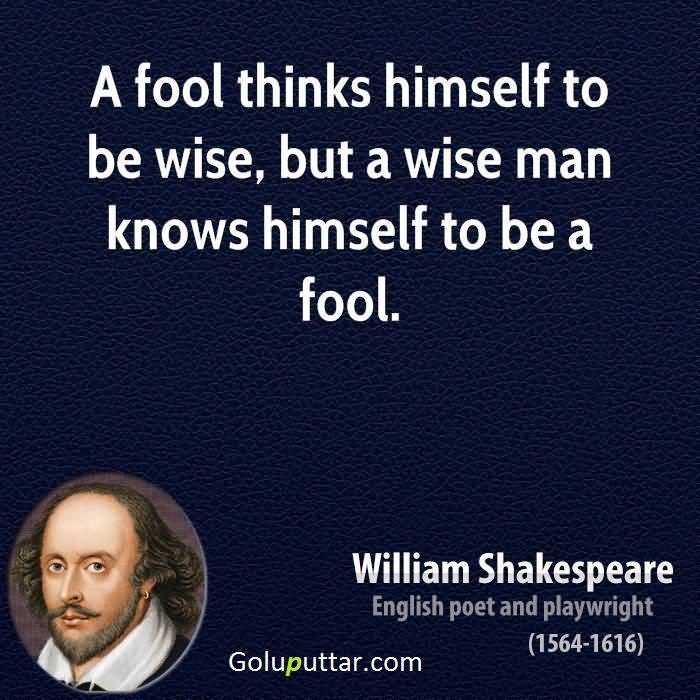 Don't be a wise guy!
18 Let no one deceive himself. If anyone thinks that he is wise among you in this world, let him become a fool, that he may become wise. 19 For the wisdom of this world is foolishness with God. For it is written, "He has taken the wise in their craftiness." 20 And again, "The Lord knows the reasoning of the wise, that it is worthless." 21 Therefore let no one boast in men. For all things are yours, 22 whether Paul, or Apollos, or Cephas, or the world, or life, or death, or things present, or things to come. All are yours, 23 and you are Christ's, and Christ is God's.

1 Corinthians 4
top
We (Paul and Apollos) are stewards of the mysteries of God.
4 So let a man think of us as Christ's servants, and
stewards
of God's mysteries. 2 Here, moreover, it is required of stewards, that they be found faithful.
Are you judging whether I am a faithful steward? I know I am.
3 But with me it is a very small thing that I should be judged by you, or by man's judgment. Yes, I don't judge my own self. 4 For I know nothing against myself. Yet I am not justified by this, but he who judges me is the Lord.

God will judge

5 Therefore judge nothing before the time (NASB: Therefore do not go on passing judgment before the time [this seems very different from "judge nothing"]) , until the Lord comes, who will both bring to light the hidden things of darkness, and reveal the counsels of the hearts. Then each man will get his praise from God.
6 Now these things, brothers, I have in a figure transferred to myself and Apollos for your sakes [I have used myself and Apollos to illustrate a point that would apply to other leaders] , that in us you might learn not to think beyond the things which are written, that none of you be puffed up against one another. 7 For who makes you different? And what do you have that you didn't receive? But if you did receive it, why do you boast as if you had not received it?
8 You are already filled. You have already become rich. You have come to reign without us. Yes, and I wish that you did reign, that we also might reign with you.
9 For, I think that God has displayed us, the apostles, last of all, like men sentenced to death. For we are made a spectacle to the world, both to angels and men. 10 We are fools for Christ's sake, but you are wise in Christ. We are weak, but you are strong. You have honor, but we have dishonor. 11 Even to this present hour we hunger, thirst, are naked, are beaten, and have no certain dwelling place. 12 We toil, working with our own hands. When people curse us, we bless. Being persecuted, we endure. 13 Being defamed, we entreat. We are made as the filth of the world, the dirt wiped off by all, even until now. 14 I don't write these things to shame you, but to admonish you as my beloved children. 15 For though you have ten thousand tutors in Christ, yet not many fathers. For in Christ Jesus, I became your father through the Good News. 16 I beg you therefore, be imitators of me. 17 Because of this I have sent Timothy to you, who is my beloved and faithful child in the Lord, who will remind you of my ways which are in Christ, even as I teach everywhere in every assembly. 18 Now some are puffed up, as though I were not coming to you. 19 But I will come to you shortly, if the Lord is willing. And I will know, not the word of those who are puffed up, but the power. 20 For God's Kingdom is not in word, but in power. 21 What do you want? Shall I come to you with a rod, or in love and a spirit of gentleness? World English Bible (WEB) by Public Domain. The name "World English Bible" is trademarked.
1 cor 4:1 steward
A steward does not own anything. A steward manages someone else's stuff, and distributes it to those who need it.
Paul and Apollos do not own the gospel. The gospel belongs to God, but gives it to us as a free gift. We as stewards get to distribute it to people, but people can choose whether to receive it.
steward: G3623
οἰκονόμος
oikonomos; from G3624 and νέμω nemō (to manage); the manager of a household: - manager (3), managers (1), steward (2), stewards (3), treasurer (1).
Steward
STEWARD, n. [G., a room. The steward was then originally a chamberlain or a butler.]
1. A man employed in great families to manage the domestic concerns, superintend the other servants, collect the rents or income, keep the accounts, &c. See Gen 15:2 and 43:19.
2. An officer of state; as lord high steward; steward of the household, &c.
3. In colleges, an officer who provides food for the students and superintends the concerns of the kitchen.
4. In a ship of war, an officer who is appointed by the purser to distribute provisions to the officers and crew. In other ships, a man who superintends the provisions and liquors, and supplies the table.
5. In Scripture and theology, a minister of Christ, whose duty is to dispense the provisions of the gospel, to preach its doctrines and administer its ordinances.
It is required in stewards, that a man be found faithful. 1 Cor 4.
STEWARD, v.t. To manage as a steward. [Not in use.]
1 Cor 4
judging
Article in Enrichment Journal about judging



_________________________________________________
6 Dear brothers and sisters,[x] I have used Apollos and myself to illustrate what I've been saying. If you pay attention to what I have quoted from the Scriptures,[y] you won't be proud of one of your leaders at the expense of another. 7 For what gives you the right to make such a judgment? What do you have that God hasn't given you? And if everything you have is from God, why boast as though it were not a gift? 1 Cor 4 NLT
6 Now these things, brethren, I have figuratively applied to myself and Apollos for your sakes, so that in us you may learn not to exceed what is written, so that no one of you will become [aq]arrogant in behalf of one against the other. 7 For who regards you as superior? What do you have that you did not receive? And if you did receive it, why do you boast as if you had not received it? 1 Cor 4 NASB
My paraphrase of 1 Cor 4:6ff
hings that I mentioned before to Apollos and I, but this could be applied to any leader.

Why do you become arrogant and proud in proclaiming "your" leader better than another? You proclaim your allegiance to one, and get proud because you think you have a "better" leader, and because you are picking a "better" leader than your brother.)

Do you think you are superior? Everything thing (knowledge of the gospel) you have, you have received from someone else. Why do you boast as if this is your own special knowledge? You received this knowledge from someone else!