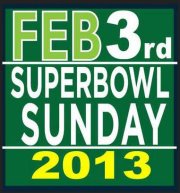 PLAY FOOTBALL before the SUPER BOWL party with Chi Alpha!
Time: 3:30 pm Place: free ride from University Meadows, Provincial Hall, Mansion Hills
Yes, you have heard us right! You are invited to join us play American football first (in our friend's backyard), then enjoy all the festivities, fun, food (lots of it!) and hanging out with friends as we watch the Superbowl!!! Come join us and bring friends!!!!!
If you like to cook and bring some food from your country, feel free to bring something--it will be great to taste some international food for our party! If you do not have time to fix anything--come as you are --we will have plenty for everyone!
There will also be a very short, 10 minute, inspirational message about God's love during our time together!
Please click YOU ARE ATTENDING in this invitation so we know how many are coming. If you are bringing friends, please let us know how many of them are coming by calling or texting us at 314-485-9125.
Free ride to the party location. Below are times for pick up :
Outside University Meadows at the MUC at 3:00 pm
IT'S NOT TOO LATE TO COME! Call or text us at 314-485-9125 if you are coming! Thanks!
Please inform us where you live.
See video about football below
You can also read more about football here.