Join Chi Alpha friends for some great fun in the country!
We are going apple-picking at Eckert's orchards,
have fun in a 10-acre corn maze.
We are offering a free ride! Inform us if you are coming.
Meeting at 1:00 pm Saturday Oct 7 in front of University Meadows Clubhouse (fill out form below to reserve your space)
Admission fee at Eckert's Farm: $12
$12 Admission includes:
NEW! 10-acre corn maze in the shape of St Louis Cardinal's Fredbird

Pig races

Jack-O-Lobber (pumpkin cannon)

Carnival rides

Petting farm

One Haunted Hayride (available Friday and Saturday nights only). Additional Haunted Hayrides are $5 per person and may be purchased at the Fun Farm ticket booth.

Jumping pillow

70-foot Mineshaft underground slide

Fort Eckert playground

Push pedal tractors

Uncle Aubrey's fun house

Tire swings

Live shows on the Grand Stage

Miniature golf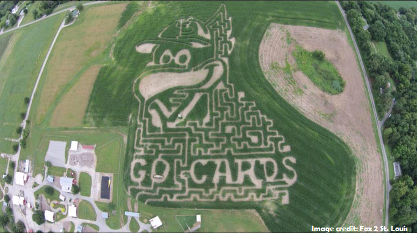 We have some other fun events coming up! We're going on a hike to see beautiful fall foliage, Thanksgiving meal, etc. Find out more here: www.umslxa.com/events
Are you coming? Do you need a ride? Please respond!